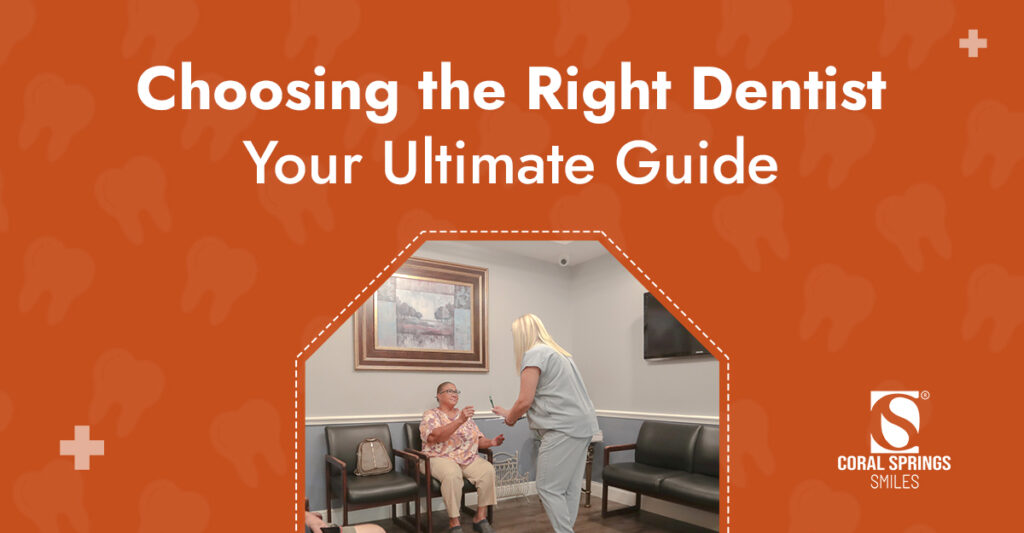 In the ever-evolving world of dental care, finding the perfect dentist can be a daunting task. However, at Coral Springs Smiles, we are dedicated to helping you make an informed decision. Our commitment to quality care and expertise sets us apart from the rest.
In this comprehensive guide, we will walk you through the essential factors to consider when choosing the right dentist for you and your family.
Credentials matter
When searching for a dentist, the first step is to evaluate their credentials. Look for professionals who are licensed by the American Dental Association (ADA). This ensures that they have met the highest standards of education and ethical practice. Our team at Coral Springs Smiles consists of ADA-certified experts, guaranteeing top-notch care.
Experience and specializations
The level of experience a dentist possesses can greatly influence your decision. Our seasoned practitioners at Coral Springs Smiles boast years of hands-on experience across a wide range of dental procedures. Whether you require a routine check-up or a complex dental implant, our team has the expertise to cater to your needs.
Patient-centered approach
At Coral Springs Smiles, we prioritize your comfort and satisfaction. Our patient-centered approach ensures that your dental experience is as pleasant as possible. We take the time to listen to your concerns, answer your questions, and tailor our treatments to your individual needs.
State-of-the-art technology
Advancements in dental technology are constantly improving patient care. At Coral Springs Smiles, we stay at the forefront of these innovations, offering cutting-edge tools and equipment for accurate diagnostics and treatments. Our commitment to technology ensures that you receive the best care available.
Comprehensive services
One of the advantages of choosing Coral Springs Smiles is our comprehensive range of services. From routine cleanings and fillings to cosmetic dentistry and oral surgery, we have you covered. This eliminates the need for multiple referrals and allows you to receive all your dental care under one roof.
Transparent pricing
Concerns about the cost of dental care can be a significant barrier to seeking treatment. At Coral Springs Smiles, we believe in transparency when it comes to pricing. We provide detailed, upfront cost estimates and work with various insurance providers to maximize your coverage.
Convenient location and hours
Accessibility is key when selecting a dentist. Our strategically located practice ensures that you can easily schedule appointments and receive timely care. We offer flexible hours to accommodate your busy schedule, making dental visits hassle-free.
Exceptional patient feedback
Don't just take our word for it – hear what our patients have conveyed. Our consistently positive patient reviews reflect our dedication to excellence. We pride ourselves on the relationships we build with our patients and the trust they place in us.
Conclusion
Coral Springs Smiles offers a perfect blend of expertise, technology, and patient-centered care. With us, you're not just choosing a dentist; you're choosing a partner in your oral health journey. Schedule an appointment today and experience the difference for yourself. Your smile deserves nothing but the best!